SpatialCover Impervious California
SpatialCover Impervious California is a high resolution (1 meter) data product that provides information on built-up cover in California to support different stormwater management and ecological applications.
What can you do with SpatialCover Impervious California?
The SpatialCover Impervious California dataset supports numerous applications for stormwater management, urban planning and for monitoring ecosystem changes.
Approach
EarthDefine used a Geographic Object-Based Image Analysis (GEOBIA) processing workflow to create the SpatialCover Impervious California dataset. Multiple ancillary datasets including transportation framework vectors, TIGER demographic data, hydrological, cadastral and terrain data were used along with color infrared aerial imagery to develop an object based classification workflow. Over 4.9 billion image-objects were created from over 158,123 square miles of 1m resolution source imagery and classified through our GEOBIA platform to create a 6-class classification with an overall accuracy of 93.5%. The SpatialCover Impervious layer was derived from the base SpatialCover Land Cover for California to prioritize the classification of man made impermeable surfaces.
Related Products
SpatialCover Impervious California Overview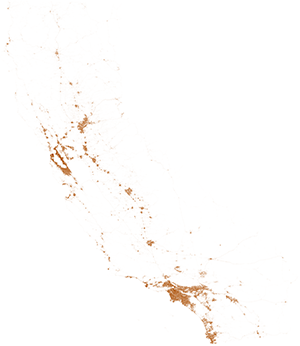 ---
Technical Specifications
Resolution
1 meter
Minimum Mapping Unit
0.005 acre
Accuracy
90.2%
Area
158,123 sq. miles