SpatialCover Tree Canopy Indiana
SpatialCover Tree Canopy Indiana is a high resolution (1 meter) tree cover data layer that provides baseline information on woody vegetation for Indiana in multiple formats to support improved management of tree resources and carbon quantification. It is derived from color infrared imagery and LIDAR flown between 2011 and 2013 as part of the Indiana Othophotography and LIDAR data acquisition program. For some counties the LIDAR data was acquired between 2007 and 2010. In addition color infrared imagery flown as part of the 2012 National Agriculture Imagery Program (NAIP) was also used to aid the classification process.
What can you do with SpatialCover Tree Canopy?
The SpatialCover Tree Canopy Indiana dataset supports numerous applications for urban planning, forest inventory and ecosystem analysis.
Approach
The SpatialCover Tree Canopy Indiana 2011-13 dataset was derived by reclassifying the Indiana Canopy Height Model (CHM) to map all tree canopy surfaces were greater than 7 feet in height.
Related Products
SpatialCover Tree Canopy Indiana Overview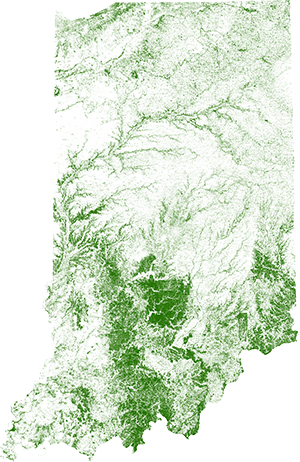 ---
Technical Specifications
Resolution
1 meter
Minimum Mapping Unit
0.005 acre
Accuracy
95.1%
Area
36,184 sq. miles