New York Land Cover
The New York Land Cover is a high-resolution (1 meter) data product that provides baseline land cover information for the state of New York in multiple formats to support different land management applications. It is derived from 1 meter, 4 band color infrared imagery flown between May 6, 2015 and September 23, 2015 as part of the National Agriculture Imagery Program (NAIP). In addition LIDAR data flown between 2007 and 2016 was used to aid the classification process. Over 15 terabytes of LIDAR and aerial imagery were processed for the state through EarthDefine's high performance Geographic Object-Based Image Analysis (GEOBIA) processing platform to create the land cover layer.
Classes
| | | |
| --- | --- | --- |
| Herbaceous | 1 | all surfaces with non-woody vegetation - lawns, cropland, grasses, etc. |
| Bare | 2 | non-vegetated non-impervious cover - snow, sand, barren farmland, rock, etc. |
| Impervious | 3 | impermeable built-up surfaces - roads and transportation infrastructure, sidewalks, buildings, parking lots, etc. |
| Water | 4 | open water - lakes, rivers, streams, sea, ponds, etc. |
| Trees | 5 | trees |
| Shrubs | 6 | low woody vegetation - early stage or stunted trees |
What can you do with the New York Land Cover data?
The New York Land Cover dataset supports numerous applications for urban planning, forest inventory, stormwater management, environmental impact assessment and conservation.
Approach
EarthDefine used a Geographic Object-Based Image Analysis (GEOBIA) processing workflow to create the New York Land Cover dataset. Multiple ancillary datasets including transportation framework vectors, TIGER demographic data, hydrological, cadastral and terrain data were used along with color infrared aerial imagery to develop an object based classification workflow. LIDAR data was used to develop the tree class and derive buildings that were added to the impervious class. Over 1.6 billion image-objects were created from over 34,052 square miles of 1 meter resolution source imagery and classified through the GEOBIA platform to create a 6-class classification with an overall accuracy of 96.2%.
New York Land Cover Overview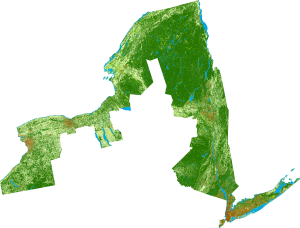 ---
Technical Specifications
Resolution
1 meter
Minimum Mapping Unit
0.005 acre1
Accuracy
96.2%
Classes
6
Area
34,052 sq. miles
1. Minimum mapping unit for shrubs and water classes is 0.1 acres.